For a long time D and I have been planning on tying the knot. I think we have actually talked about it since last summer and originally planned on last autumn, but then it got pushed to winter, and then spring, and then well the other day it actually happened.
This isn't about the wedding ceremony, just a marriage certificate. A ceremony costs money which we don't have at the moment so we proceeded to do the certificate first. In China, there are a few steps you need to follow before you can get the marriage certificate. So the hardest part is actually obtaining all of the documents necessary.
You will need the following:
Your passport (with a valid Chinese visa/Residence permit)
Your partner's Hukou ( 户口) (Family Register)
Your partner's ID
Certificate of Marriageability
3 Official size photos for marriage on a red background
3 photos of the couple taken together ( I brought these, but they weren't needed)
Registration fee (20 RMB (~$3)
Before you can file for the marriage certificate you need to obtain the Certificate of Marriageability from your embassy. Lucky for me there is a U.S. Consulate General in Chengdu so it was easy setting up an appointment. When going to book an appointment for the marriageability certificate you need to choose a notary appointment.
https://china.usembassy-china.org.cn/u-s-citizen-services/local-resources-of-u-s-citizens/life-china-living-working-marriage/
You can check the current guidelines if you are a U.S. Citizen on the Embassy website under 'Getting Married in China.'
You will need to bring with you:
Your passport with a valid Chinese visa in it (I had a residence's permit)
A copy of your partner's ID (Shen Fen Zheng 身份证)
If divorced you must show a copy of your divorce decree to obtain the marriageability certificate, if you are single you don't need extra paperwork
Notary fee of $50 (355 RMB) CASH ONLY
IMPORTANT NOTICE: Marriageability Certificate is only valid for 6 months!!
Why is it important to pay attention to that validity, if you don't get married in that time frame you will need to go back to the embassy to obtain a new marriageability certificate. Which is exactly what I had to do. The six month validity isn't on the embassy website, I believe that the woman at the office told me in person the first time, but when we called the Chinese office to check they said that it was six months and because it was expired I would need a new one before we could obtain a marriage certificate.
IMPORTANT NOTICE: I believe foreigners are only allowed to obtain a marriage certificate with a Chinese citizen at the provincial civil affairs office. For example, in Sichuan Province that is in Chengdu. In Qinghai, that is in Xining. Before heading down call ahead to make sure you are going to the right office to save yourself a headache.
In Chengdu, you need to go to the local civil affairs bureau, (民政局Min Zheng Ju) which is located at Dongmen Bridge station on Line 2.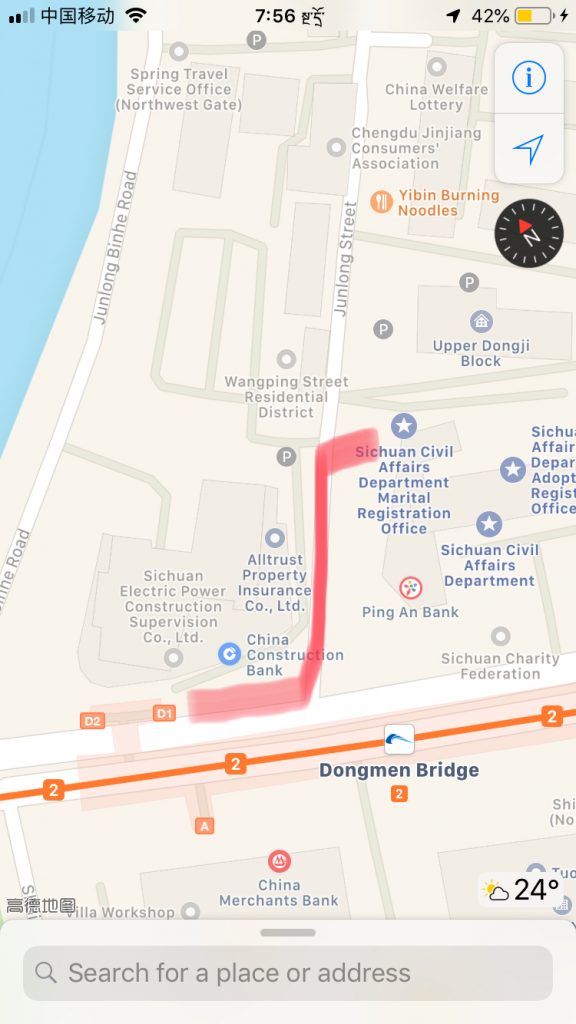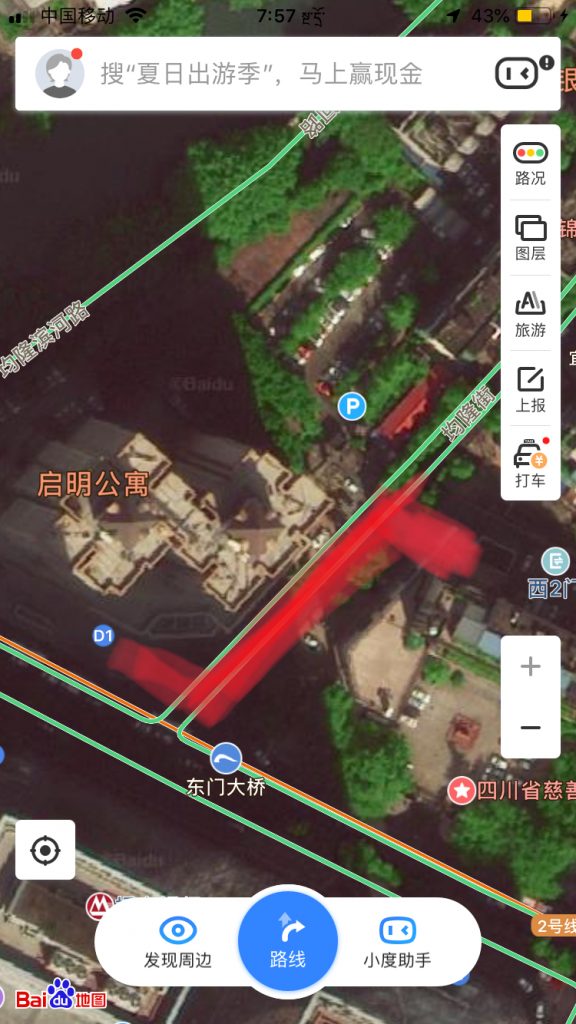 Take Exit D1, walk straight to the corner (there is a China Construction Bank on your left),
take a left and on your right will be Pingan Bank.
After Pingan Bank will be a gate.
If you go in the gate on your right there will be a guard box and a flight of stairs, go up to the third floor for the Marriage Registration office.
Once inside you can talk to someone who will ask you to take a seat or you can go straight back to the second office on the left. This person will check all of your documents and make copies and you and your partner will then pay the 20 RMB. Afterwards you will be directed to sit and wait for your turn at the Marriage Registration counter.
The officers don't speak English however, the main form they have for you to fill out is in English or Chinese. If you are an English speaking foreigner they will give you the English version, otherwise they will give you it in Chinese. This first form is just filling out the basic information of you and your partner. It will be similar to the information you had to fill out for the marriageability certificate, so if you are unsure of spelling or addresses you can keep a copy or note for yourself. Otherwise, just look at your partner's form and write the correct information. If you need to write the address in Chinese and are unable to your partner can write it for you on the line. The second form also has English and Chinese and you will just need to write a statement on the line that everything is true, sign and date it.
They will take the signed documents verify all of the information to the documents and copies you have provided, and make more copies. Once verified you will be asked to dip your thumb in red ink and put your thumbprint over your signature on your two sheets and the joint sheet with your and your partner's information that the officer filled out. Your partner will stamp the joint sheet and their two sheets. If there are any mistakes on your paperwork that you corrected you will need to also stamp your thumbprint over them to verify that information.
The officer will check the documents one more time and hand you and your partner the marriage certificate. One copy for each of us. They will also provide copies of documents necessary for the next step. We have to go to a different office, but I'll share the next step after we complete it.
For us, we were rather slow gathering all of the documents. D didn't go and get his Hukou until June when his cousin brought it to him from his hometown. And that's when I realized I needed a new marriageability certificate, so we were slow to get the ball rolling which is okay. We went out in the early afternoon on Monday to get our official marriage certificate photos done which only took a few minutes and cost us 25 RMB. And then we headed to the civil affairs bureau. We had to wait for almost an hour and a half after the first officer checked out documents, but once it was our turn it went pretty quick, thankfully.