Today we took our copies we received at the marriage registration office to the Luzheng Notary Public Office today. We needed to show the original marriage certificates and give the copies to one of the workers in order to get paperwork that will allow me to be registered on D's Hukou (Family Register).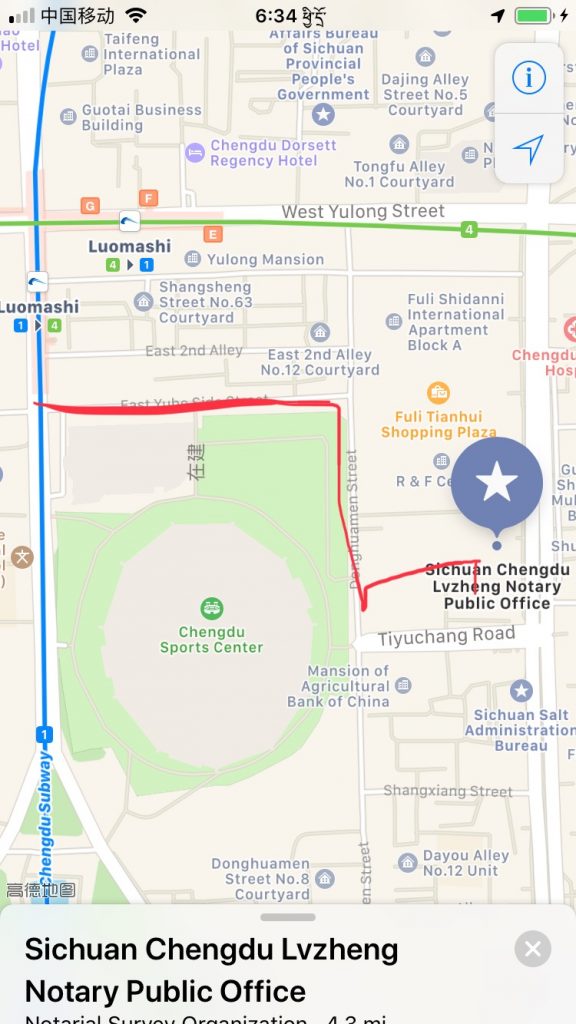 The Notary Office can be found near Luomashi Subway Station on Line 4, or 1 and you can take exit D or exit E to get to the office. It is about a 5 minute walk from the station and it is a little deceiving as to where to go. We came from exit D, but even if you come down from E you should see the same sign we did. There is an old sign for the office and the doors are closed. If you walk down the street a little you will see an open space between buildings that looks like a passageway. If you walk through there on your right will be a small Lobby before you get out of the passage way. To access the office go into the Lobby and head to the 4th floor.
Once you get to the Notary office you can come inside and take a number and then you will need to wait for the officer. I don't know the name of the office as I can't read Chinese, but it was the door on the left in the corner, that we used. We went inside and presented our documents and then were given more forms to fill out as well. My understanding of Chinese is limited but one of the words used was similar to the Korean word for immigration, which was borrowed from Chinese. So my understanding was that the officer was asking if we planned on immigrating to America or staying in China. Turns out I understood that little bit.
D asked a few more questions regarding the Hukou and also about deciding where we want to live in the future, I lost track of the conversation with my limited understanding, but he filled me in later. Basically, we have 5 years to decide whether we will immigrate to America or continue to stay here, and I believe after that if we decide to stay I will become a permanent resident. (Don't quote me on that, as my understanding came through Tibetan and so I got the gist of we have 5 years to decided where we want to settle, haha)