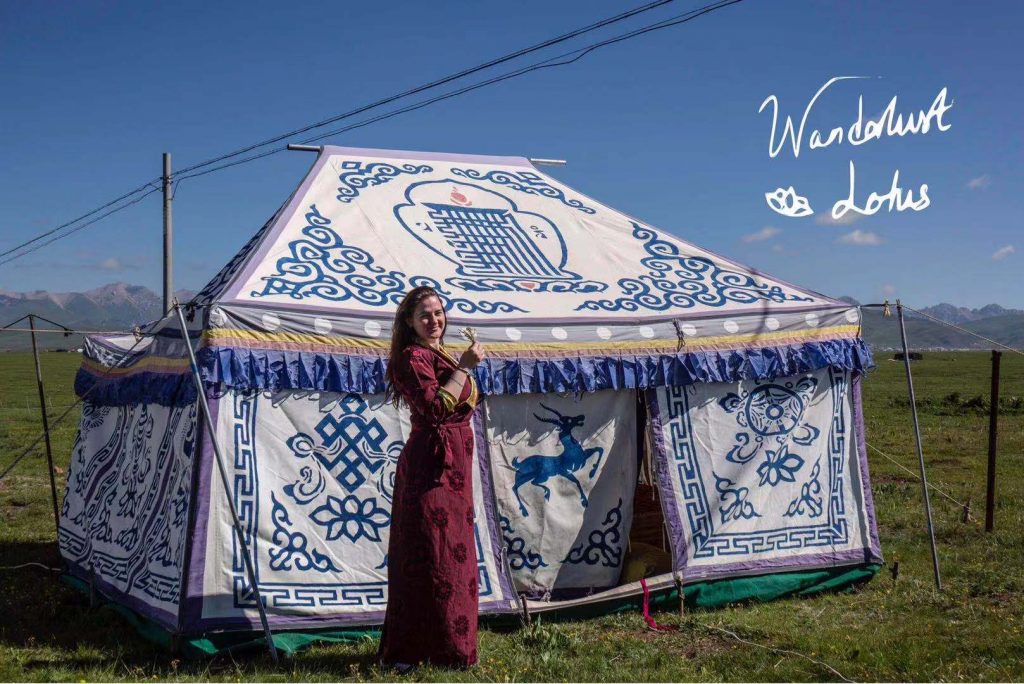 Back in August, I was sitting in a white tent on the Dzorge Grasslands where Dondrup's parents camp for the summer and I began writing a poem in English for our future child. At the time, I only had the first two verses written and couldn't figure out what I wanted to write after that. Should I make it longer? All I knew was that once it was completed I wanted to try and write it in Tibetan as well.
I asked my friend, Lowell, who often writes poetry what he thought of the poem and if it needed any extra verses. He said it was really good, but would be better if I could add a verse or two to it. He also said it will be a wonderful treasure for our family for years to come once I was finished.
During the month of November, I set out to try and finish the poem which I was able to and asked him for feedback once again. In the meantime, I sent the poem to my mother and to another friend to see what they thought as well. I'm not very confident in my writing, especially when it comes to creating poetry, as I think I'm a novice at best.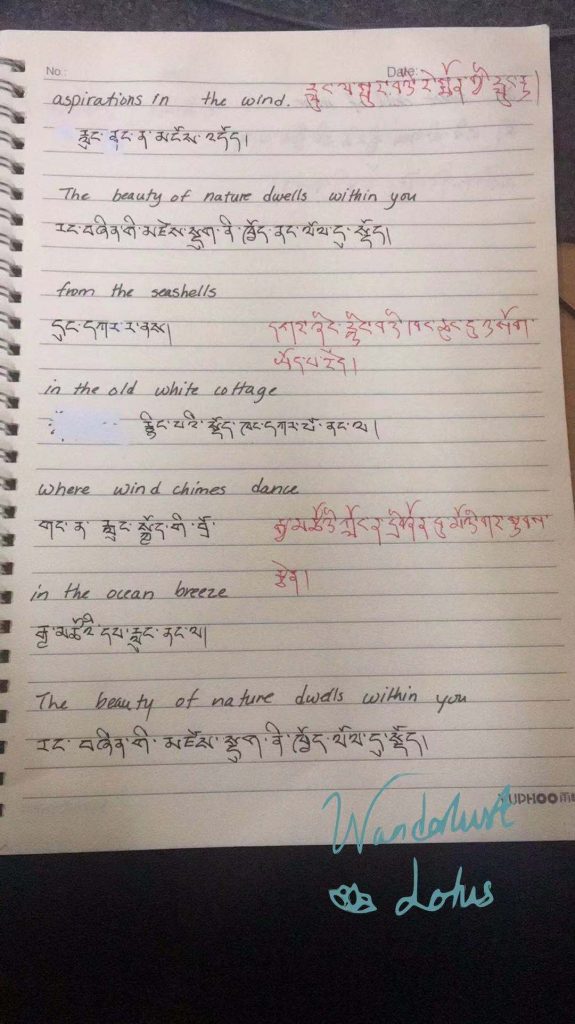 Once the English was completed, I spent a day or so looking up the vocabulary words I didn't know so that I could try and translate the poem into Tibetan on my own. I brought it with me to my weekly language exchange with one of Dondrup's old classmates, and his other good friend was there too. The two of them needed a little help with understanding certain lines which included unfamiliar English words for them, however, the dictionary is always helpful after a straightforward explanation of my intended meaning. They checked my Tibetan translation for me and revised it accordingly.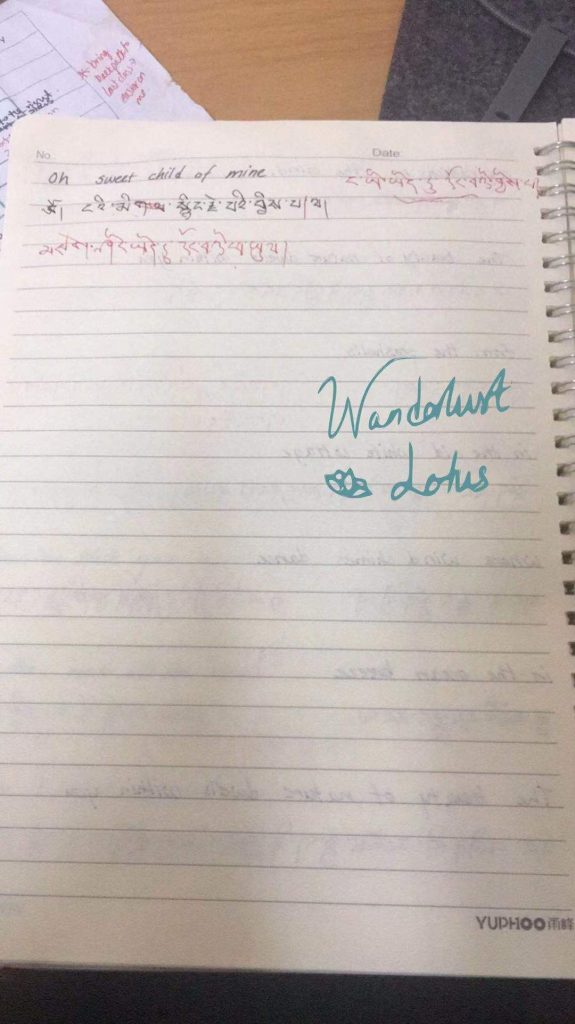 Watching the two of them revise my poem made me see where I had made errors and where I had used the correct words and phrases. I also learned much of what I wrote could be refined into a more poetic style. The two Tibetan friends said the poem was really nice and translated into Tibetan it also has some really beautiful lines, which made me feel humble and accomplished about my poem. I am extremely thankful to them for helping revise the Tibetan translation. Now, I just need to figure out how I want to preserve it.
So without further ado here it is:
The beauty of nature dwells within you
From the green grasslands
to the snowy mountain peaks
Where yaks roam and the milky way adorns the sky
ཁྱོད་ལ་ལྷན་སྐྱེས་སུ་མངའ་བའི་རང་བྱུང་གི་མཛེས་པ།
ལྗང་མདོག་གི་རྩྭ་ཐང་ནས།
གངས་རིའི་རྩེ་ལ།
ནོར་གནག་གི་ཕ་ཡུལ་ན་དགུ་ཚིགས་ཀྱིས་རྒྱན་པའི་ནམ་མཁའ་ཡོད།
The beauty of nature dwells within you
From the majestic autumn woodlands
To the glistening seashore
Where the sound of crashing waves against the sand becomes a lullaby
ཁྱོད་ལ་ལྷན་སྐྱེས་སུ་མངའ་བའི་རང་བྱུང་གི་མཛེས་པ།
བརྗིད་ཆགས་པའི་སྟོན་ཀའི་ནགས་ལྗོངས་ནས།
འོད་ལམ་ལམ་གྱི་མཚོ་འགྲམ་ལ།
མཚོ་མོའི་རླབས་སྒྲ་ཡིས་བྱེ་མའི་ཚོགས་ལ་གཉིད་དབྱངས་འགུག་བཞིན་འདུག
The beauty of nature dwells within you
From the black yak hair tents on the roof of the world
Where lungtas whisper aspirations to the wind
ཁྱོད་ལ་ལྷན་སྐྱེས་སུ་མངའ་བའི་རང་བྱུང་གི་མཛེས་པ།
འཛམ་གླིང་གི་ཡང་རྩེ་ན་གནས་པའི་སྦྲ་ནག
རླུང་ལ་སྤུར་བའི་རེ་སྨོན་གྱི་རླུང་རྟ།
The beauty of nature dwells within you
From the seashells in the old white cottage
Where the wind chimes dance among the ocean breeze
ཁྱོད་ལ་ལྷན་སྐྱེས་སུ་མངའ་བའི་རང་བྱུང་གི་མཛེས་པ།
དཀར་ཞིང་རྙིང་བའི་ཁང་ཆུང་དུ་ཉ་སོག་ཡོད་པ་རེད།
རྒྱ་མཚོའི་ཀློང་ན་དྲི་ཞོན་བུ་མོས་གར་སྟབས་རྩེན
The beauty of nature dwells within you
Oh sweet child of mine
ཁྱོད་ལ་ལྷན་སྐྱེས་སུ་མངའ་བའི་རང་བྱུང་གི་མཛེས་པ།
ངའི་སྙིང་རྗེ་པའི་བྱིས་པ།