I've been a part of a private resolution group for three years now where we aim to hit 70% completion. Last year, was my best year at 45-52% depending on how I calculated my success rate.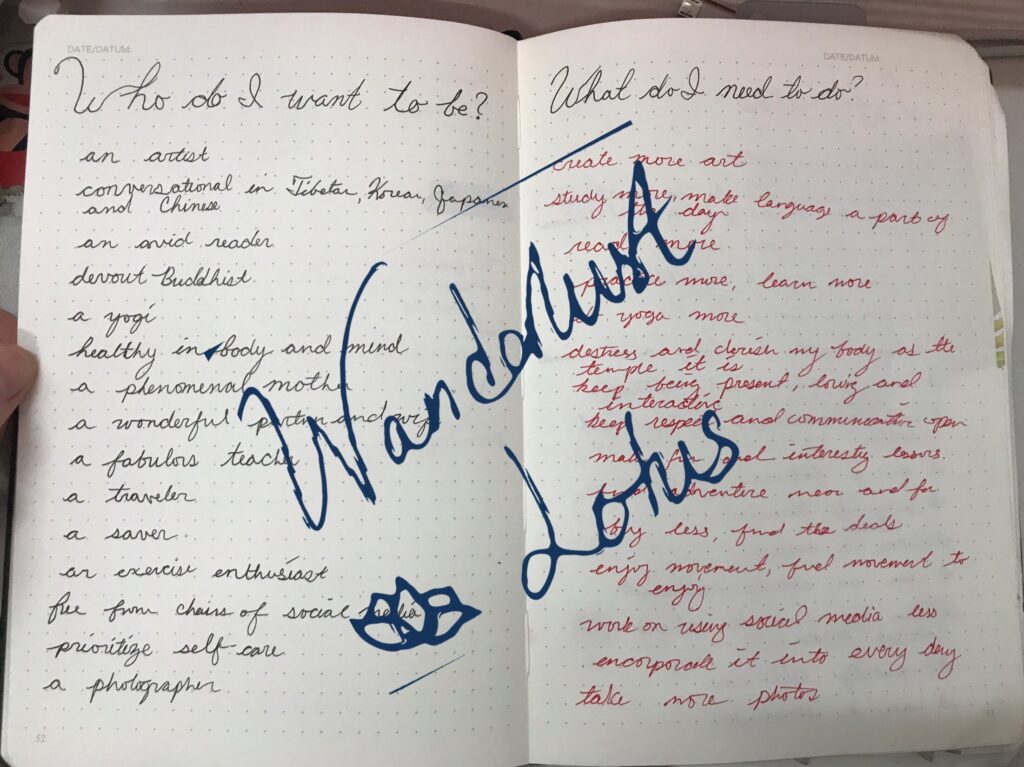 I like keeping resolutions as it is a reference point of something I want to work on, but might not check in on it again until the end of the year. So the group at least reminds myself that I need to check in to see if I am trying to stay on track. Life also happens and some resolutions get derailed, that is okay. Keeping resolutions has taught me to be gentler with myself and to celebrate all of my small victories. I've learned to strive for progress, not perfection.
Without further ado here are my resolutions for 2021:
Resolutions ཐག་གཅོད 새해 다짐
ལྗིད་ཚད་སྤྱི་རྒྱ་༦༣་མན།Weigh under 62kg 62킬로 미만의 체중
རྒྱ་ཡིག་གི་སློབ་སྦྱོང་། Study Chinese 중국어를 공부하기
བོད་པའི་གཉེན་སྒྲིག Tibetan Wedding 티베트 결혼식
བསོད་པེ་དང་ཨ་སྒྲང་གི་ཕྱི་སྐོོད་ལག་ཁྱེར་ལ་ལས་དགོས། Get Soby and Adrang a Passport 소비랑 아드랑와 여권 만들기
ལས་ཀ་བཟང་པོ་ཞིག་བཙལ་བ། Find better work conditions 좋은 환경의 일 구하기
མ་འོངས་པའི་ཆེད་དུ་དངུལ་གསོག་བ།༼ཟླ་རེའི་བཅོལ་དངུལ༽ Create a savings for the future (Monthly Deposits) 미래를 위해 저축하기(매달 보증금)
ཟླ་རེར་ཐེངས་གཉིས་ལ་པོད་ཁུག་འབྲི་བ་། Blog twice a month 한 달에 두번 이상 블로그 기록하기
དཔེ་ཆ་དྲུག་ཀློག་དགོས། Read 6 books 책을 여섯권을 읽기
ཕ་ཡུལ་ལ་ལྗོངས་རྒྱུར་འགྲོ་བར་འཆར་གཞི་དགོས། Plan a trip home 고향으로의 여행 기획하기
ལྷ་ས་ལ་ལྗོངས་རྒྱུར་འགྲོ་བར་འཆར་གཞི་དགོས། Plan a trip to Lhasa 라사 여행 기획하기
བོད་སྐད་ཡིག་ལ་སློབ་སྦྱོང་དགོས། Study Tibetan 티베트어를 공부하기
ཁོ་རེ་ཡའི་སྐད་ཡིག་ལ་སློབ་སྦྱོང་དགོས། Study Korean 한국어를 공부하기
ཉི་ཧོང་སྐད་ཡིག་ལ་སློབ་སྦྱོང་དགོས། Study Japanese 일본어를 공부하기
བར་བཅུག་རི་མོའི་གཏམ་རྒྱུད་འབྲི་བ། write and draw story 그림과 함께 이야기 쓰기
སྐད་ཡིག་གཉིས་ཀྱི་སློབ་གསོའི་བསམ་བློ་ལ་མྱུལ་པ།Explore bilingual education ideas 이중 언어 사용 교육 탐구하기
གཉེན་སྒྲིག་སོར་གདུབ་ལ་ཉོ་དགོས། Buy Wedding bands 결혼반지 사기
ཁྱིམ་ཚང་ལ་ཆེད་ལས་ཀྱི་འདྲ་པར་ལེན་དགོས། Take Professional Family Photos 전문적인 (프로페셔널한)가족 사진을 찍기
སྤྱི་ཚོགས་སྨྱན་སྦྱོར་ཉུང་བཀོལ་བྱེད་པ།( མཉེན་ཆས་ཉུང་བཀོལ་བྱེད་པ།) Reduce social media 소셜 미디어를 줄이기
སྒོམ་མང་པོ་རྒྱག་པ། meditate more 더 명상하기
གཟའ་འཁོར་རེར་ཐེངས་ལྔ་ལ་ཞོགས་པར་ལུས་རྩལ་སྦྱོང་བ། morning workout 5x a week 한 주에 다섯 번 아침 운동하기
ཁོ་རེ་ཡའི་སྐད་ཡིག་ལམ་ནས་རྩོམ་ཡིག་གསུམ་རེ་ཀློག་པ། Read 3 Articles in Korean 한국어 기사 3개를 읽기
བོད་གིནདཔེ་ཆ་གཅིག་ཀློག་དགོས། Read one Tibetan book 티베트어 책 한권을 읽기
The goal of this year is to retain Korean, review Japanese, start learning Chinese and continue improving my Tibetan. To keep it in focus I wrote my resolutions in English and Tibetan. A Tibetan friend checked my translation and fixed all my mistakes. I then decided why not add Korean and had a Korean friend check it for mistakes. I have the English written in my phone and here in this post, but in my bullet journal I only wrote Tibetan and Korean.
I also broke my language learning goals for Tibetan, Korean, and Japanese down a little. I'm going to try a quarterly approach to see how much I can actually commit to without feeling overwhelmed or giving up. I think it should go rather well and I have to thank the video by polyglot, Lindie Botes, for mentioning that and giving me the idea.
A few of the resolutions don't need to be completed in 2021 as they are flexible based on my financial situation over the coming year. Like a wedding, professional photos, trips, these can all be done or moved around. However, I think having them written as a resolution helps to add importance to them so that I set aside time to try and achieve them, or put the plans in motion.
Not everyone sets resolutions, but I like to. How about you?